Today Callie had her regular appointment with Dr. Kravitz, her lung doctor. We consider him Callie's primary specialist since SMA weakens Callie to the point that a cold can be life threatening.
Fortunately we had no such pressing concerns today, so we talked more about our long-term goals for Callie. Dr. Kravitz is an SMA expert who knows our family well, so we're always interested in his thoughts.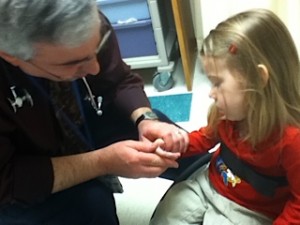 Dr. Kravitz talks with Callie.
Since Callie's SMA diagnosis nearly two years ago, we've slowly embraced palliative care, which focuses on Callie's quality of life. We do not want to spend so much time prolonging her life that she doesn't have the time or strength to enjoy it.
But we also have sought the opinion and guidance of experts at Duke such as Dr. Kravitz. At times we've wondered whether seeking care from multiple experts contradicts our beliefs and wishes for her life.
This philosophical dilemma has real-life implications. Should Callie be put on life support if she needs it, even if it's just for a day or two?
The easy answer is yes, but we also know that she might not come off of a breathing machine very easily once she's been on one. If that happened she'd spend her last days in a hospital or would have to remain on a ventilator to stay alive.
That's just one of many similar questions we've faced since SMA impacts multiple body systems.
Today Dr. Kravitz said it's good to at least know all options that are available for Callie. We can always decline any treatment if we think it's not in Callie's best interest, he said.
But our focus on quality of life through palliative care doesn't mean we have to decide we'll never take Callie to the hospital. It doesn't require us to stop seeing some of Callie's specialists.
Instead we'll be able to seek the guidance of Callie's doctors and her Hospice nurse — along with Callie herself — as hard questions come our way.